The products below has either been discontinued or replaced by new versions.



The CM3 microphone was a great succes with more than 20.000 units sold.
It has now been replaced by the nearly identical
CM4
.
The old CM3 page is available
here
for reference.
---
Mainly due to the continously rising demand for CM3/CM4 and their omni sibling, there simply were no time left to build the SM/ST/QM microphones.
The last SM/ST/QM microphone was made in 2011.

SM/ST/QM STUDIO CONDENSER MICROPHONES Made in Sweden
-Quality microphones made for demanding situations. Based on our triple membrane cartridge.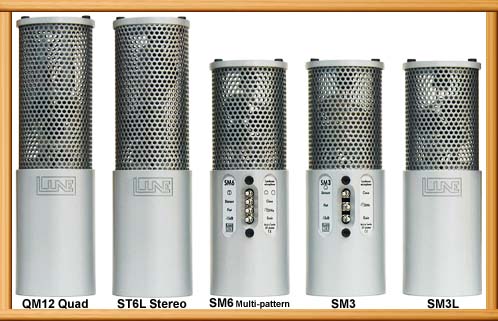 Specifications:
Large membrane area using triple small membranes, STUDIO CONDENSER MICROPHONES.
The triple membrane cartridge combines the low noise of a large membrane with the detailed response of smaller membranes, which besides their fine tonal quality are tougher and less fragile.
Well balanced, uncoloured response, covering the full audio spectrum. Solid deep bass, natural midrange and silksoft top ensures that all qualities of the source and ambience are captured with minimal distortion.
Elastic holder and protective case included!

SM6i CARDIOID, OMNI, Fig.EIGHT (double cartridges / 6 membranes) Retail: 3300 SEK excl VAT/ plus moms
-Double sets of our triple membrane cartridges (totally 6 membranes!) are used to acheive switchable omni, cardioid and figure 8 patterns.
-Switchable phase gentle, low cut, shelving filter to compensate for the proximity effect of the Cardioid/Figure8 patterns.
-Switchable 120Hz 12dB/oct Highpass filter.
-Switchable gain/PAD: 0 or -15dB.
SM3i CARDIOD version of SM6 (single cartridge / 3membranes) Retail: 2550 SEK excl VAT/moms
SM3Li CARDIOID version without switches (single cartridge / 3membranes) Retail: 2250 SEK excl VAT/moms
ST6Li STEREO X/Y -CARDIOID mic with separate (L+R) XLR outputs: 3550 SEK excl VAT/moms
QM12i QUAD / Multi Mic (Quadruple cartridges / 12 membranes) 5100 SEK excl VAT/moms (excl. cable)
This microphone is actually four complete/independent SM3Ls in one body with each membrane angled 90 degrees.
5 meters of cable (with QM12 multiconnector to 4x XLR wip): 795 SEK excl VAT/ plus moms. Other cable lengths are available on request.

QM12i picks up true QUADRAPHONIC/SURROUND!
Stereo: X/Y.
Mono: CARDIOID.
-Additionally, with the help of a good mixing desk it can also pick up the following stereo and mono patterns:
Stereo: BLUMLEIN (crossed figure eight), M/S, omni X/Y. Recordings can be made Quadraphonically with the stereomatrix manipulated at a later stage, finding out the best settings not before recording, but afterwards. This reduce the risk of mistakes and enables post production perfection of the stereo image/ambience, not possible with standard techniques.
Mono: Any pattern between OMNI-CARDIOID-SUPER CARDIOD-FIGURE EIGHT.



QM12 instructions.
How to connect and use the QM12 Quad microphone:

You will need a good mixing board with balanced inputs and 48V phantom, preferably with the EQ disabled and with a phase reverse button. If it doesn't have a phase reverse button you will have to use an adaptor cable to reverse the phase. (XLR: pin1-pin1, pin2-pin3, pin3-pin2). If all 4 cartridges are recorded to seperate tracks, experimentation with different pickup patterns is possible without having to re-record to try different techniques.

Mono patterns.

Cardioid: Since the QM12 is built of four completely identical cardioid cartridges, picking up cardioid is just a matter of connecting one of the four cartridges (see number on XLR fan-out) to the mixer.

Omni: Cartridge "1" (front) and "3"(back) are connected to the mixing board and mixed together in at equal levels, resulting in an even omni pickup. By lowering the level of the back channel it is possible to adjust the directionality and go from omni to cardioid, without steps.

Figure eight: The same procedure as "omni". The difference is that to achieve figure eight, the back channel is phase reversed (with the mixing board phase-reverse button or using an adaptor cable). By lowering the level of the back channel it is possible to adjust the directionality and go from cardoid to super-cardioid to figure eight, without steps. Both channels used should, to begin with, have the same gain.


Stereo patterns.

X/Y: Cartridge 1 is pointed 45 degrees to the left with cartridge 2 pointed 45 degrees to the right. "1" is panned left and "2" is panned right. This usually gives a very faithful reproduction of the recording event, with a natural balance of direct and ambient sound and good stereo separation and stable center image. It is also very easy to set up, just point and record. Sound coming from behind the mic is damped.

Wide X/Y (stereo omni): If cartridge membranes 3 and 4 are mixed in (1+4 panned left and 2+3 panned right) with equal levels, the result is an X/Y that has no backwards damping at all. This can be very useable when sound sources are spread out all around the microphone. It also returns more ambience, but too much in some situations. By lowering the level of the back channels it is possible to go from wide X/Y to X/Y without steps.

Blumlein (crossed figure eight): Two figure eights set up in a cross. Membrane "1" front (in phase) is mixed with "3" back (phase reversed) to make the left channel. The right channel is built of membrane "2" front (in phase) and "4" back (phase reversed). All channel levels should be equal to begin with. This technique will, with some experimentation and planning, give a reproduction with a very convincing, exploding stereo image with very good stereo separation. (Sound sources very far out on the sides can in some situations sound slightly out of phase.) By lowering the level of the back channels it is possible to go from Blumlein to X/Y without steps.

M/S (Middle/side): Is built of one cartridge (cardioid) picking up straight forward ("middle") and a crossed figure eight ("side") picking up mainly left and right (only a little center). Membrane 1 is used as center and is pointed and panned center. The figure eight is built of "2" and "4". The easiest way to describe and connect it is using four more channels on the mixer, totally five. Two of these four channels are panned right and two panned left. Split cables may be needed.
Right: "2" is connected to one of the two "right" channels in phase while 4 is connected phase-reversed to the other "right" channel.
Left: "2" is connected to one of the two "left" channels phase-reversed while 4 is connected in phase to the other "left" channel.
You now have four channels on the mixer, carrying the stereo information and one channel carrying the center/"middle" information. All channels mixed in a equal proportions results in a stereo image similar to the X/Y technique. By changing the level of all the four channels carrying the stereo information, it is possible to adjust the wideness of the stereo image from mono (no "side" level at all) over to "normal" (equal "side"/"middle" levels) over to "wide" (by exaggerating the "side" level).


Suggestion for the mono and stereo alternatives: If the signal coming from behind is of ambient nature it can sometimes sound better with some experimentation, for example, if the room sounds boomy it can sometimes sound clearer if low end is filtered out slightly from the back membranes using a soft shelving filter (low Q and low phase distortion).


Quad pattern (and surround):

Each membrane is connected to one of four channels ("1" left, "2" right, "3" right back, "4" left back) and will pick up real Quadraphonic-sound with real, explosive depth in all directions. This results in the same exact definition of L-R placement as X/Y stereo recordings, with the additional sensation of real depth and distance from all locations around the mic.




No Longer manufactured earlier versions of 8MP/2MP:

OMP/DMP
SPECIFICATIONS:
Eight- / Dual Channel Microphone Preamps
(Made november 2005-June 2006, serial no 6001 an up)
Power requirement 15-18VAC DMP:7VA / OMP:15VA
External 230VAC transformer
Frequency resp. 10Hz - 100 KHz ± 0.5dB
Gain 60dB (Gain at max setting)
Mic inputs Electronically balanced
Input impedance >10Kohm
Input level max 3VRMS (300mV RMS with -20 disabled/out)
Outputs Electronically balanced
Output impedance 600 ohm (minimum recommended load 600ohm)
Output level max 15V RMS (electronically balanced)
Output DC offset max 1mV at 40dB gain, max 10mV at 60dBgain
Harmonic distortion: <0.005% at 0dBU with -20dB PAD enabled (0.005% @ -25dBU at full gain input stage)
Input noise: 128 dBm/dBu (100ohm termination 20KHz B/W)
Input noise: 133dBV (input shorted 20KHz B/W)
XLR Polarity Pin 1 ground, pin2 hot +, pin 3 cold -
No Longer manufactured version!
------------
No Longer manufactured earlier version:
made 2001 to november 2005 these had no serial no:
OMP/DMP
SPECIFICATIONS
Eight- / Dual Channel Microphone Preamps
Power requirement 15-18VAC DMP:7VA / OMP:15VA
External 230VAC transformer included
Frequency resp. 15Hz - 100 KHz ± 0.5dB
Gain 60dB (Gain at max setting)
Mic inputs Electronically balanced
Input impedance >10Kohm
Input level max 1.8VRMS (180mV RMS with -20 disabled/out)
Outputs Electronically balanced
Output impedance 600 ohm (minimum recommended load 600ohm)
Output level max 15V RMS (electronically balanced)
Output DC offset max 1mV at 40dB gain, max 10mV at 60dBgain
Harmonic distortion: <0.005% at 0dBU with -20dB PAD enabled (0.005% @ -25dBU at full gain input stage)
Input noise: 128 dBm/dBu (100ohm termination 20KHz B/W)
Input noise: 133dBV (input shorted 20KHz B/W)
XLR Polarity Pin 1 ground, pin2 hot +, pin 3 cold -
Specifications may be subject to change without previous notice.
No Longer manufactured version!


No Longer manufactured CM3 version:
SPECIFICATIONS:
Version made 2005-2011, marked "24-52V PHTM PWR"
(The new version made from nov. 2011 "12-52V" features the same specs and sound, but has increased headroom and also runs on 12V)
Type: prepolarised cardioid condenser microphone
Frequency response: 20-20000Hz (100-16000Hz+-1dB on axis!)
Phantom power: 24 - 48V
current consumption: 3.5 mA
Impedance: <100 Ohm
Sensitivity: 6mV/PA -44dB
S/N ratio (DIN/CCIR): 78dB(A)/68dB
Noise level: 16dB(A)
Max SPL: 130dB
Size: 77mm x 20mm



CM2 (replaced by the CM3 in 2005):
SPECIFICATIONS:
Type: prepolarised cardioid condenser microphone
Frequency response: 20-20000Hz
Phantom power: 24 - 48V
current consumption: 3.5 mA
Impedance: <100 Ohm
Sensitivity: 5mV/PA -45dB
Signal to noise: 74dB(A)
Max SPL: 130dB
Size: 77mm x 20mm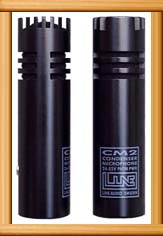 No Longer manufactured versions SM / ST / QM SERIES microphones (later replaced and an "i" added to the end of the model name:
SPECIFICATIONS:
TYPE Prepolarized condenser microphone
PHANTOM POWER 40-52V
FREQ. RESPONSE 20 - 20000 Hz
IMPEDANCE < 100 Ohm 1KHz
SENSITIVITY 7mV/PA -42dB (SM3L/ST6L 5.5mV/PA -44dB
S/N ratio (DIN/CCIR) 79dB(A)/69dB
MAX SPL 130dB (SM3L/ST6L 127 dB)
CURRENT CONSUMPTION 3.5 mA
CONNECTOR 3 PIN XLR (pin1 GND, pin 2+, pin3 -)
SIZE 140mm x 47mm / 170mm x 47mm
WEIGHT 320g (microphone only)