Omni1 - OMNIDIRECTIONAL CONDENSER MICROPHONE
Made in Sweden by Line Audio Design
This omnidirectional microphone has a natural, detailed and balanced response. Perfect for natural reproduction of acoustical instruments such as members of the bowed and plucked string-families, grand piano, brass, drum overhead, percussion, overhead choir and voice -with a minimum of colouration. The response is very smooth and flat, with fine off axis performance.
It's suitable for professional studio and PA use, with a pricetag at the hobbyist level!
The small size (about the same as a normal XLR plug) makes it easy to place, without being in the way. Its size and black colour makes it close to invisible on stage. Delivered with foam windsheild and microphone clip/holder (3/8" and 5/8").
During manufacturing each capsule is measured, selected and trimmed by us to close tolerances. Out of range capsules are rejected. This in combination with the internal circuitry, results in a response with a unique flatness. These are quality microphones made for demanding situations. -New name, same product (OM becomes Omni1).
Omni1 Retail price: 1300 SEK
incl windsheild and holder (clip), excl VAT/tax/moms
All sales are handled by our
SELECTED DEALERS.
We no longer sell directly.
Technical specifications:
Type: Condenser microphone (permanently biased 10mm capsule)
Polar pattern: Omni
Frequency response: 20-20000Hz +-1dB (on-axis, at 1m distance, 1/12 octave narrow smoothing, 23 C)
Phantom power: 12 - 48V (P48 recommended for best performance)
Current consumption: 4 mA
Impedance: <100 Ohm
Sensitivity: 8mV/PA -42dB
S/N ratio (DIN A-weighted/CCIR): 76dB/66dB
Noise level: 18dB(A)
Max SPL: 133dB @0.5% THD (130dB@24V, 120dB @ 12V)
Size: 77mm x 20mm Connector: XLR (Neutrik gold plated)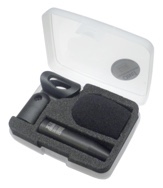 ---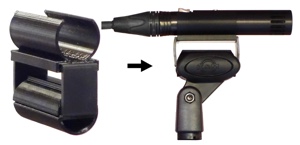 CMEA
Our new ELASTIC ADAPTER (anti vibration shock mount).
Suitable for 20mm diameter light weight microphones such as CM3, CM4 and Omni1.
170 SEK
excl VAT/tax/moms.
This is for the Adapter only (the part to the left) and it goes into the K&M 85035 clip,
which is included with all new CM4 and Omni1 microphones.
(Additional K&M 85035 clip/holders, our 20mm version, available at
50 SEK
each).
All sales are handled by our
SELECTED DEALERS.
We no longer sell directly.

Line Audio Design
-Made in Sweden, www.lineaudio.se
All prices in SEK (Swedish krona) are without salestax (excl VAT/tax/moms).
CURRENCY CONVERSION
Please Note: Prices and specifications are subject to change without notice.